Smooth dull finish that is non see-through
Comfy band that has a one size fits all sizing
Tough reinforcement all throughout
Spare room beneath the top button allows for quicker and easier access to the tassel
Red Graduation Tassel is of high quality
Present year charm (signet) is free moving
6" hang loop makes for easy fitting to the cap
Every tassel arrives with a present year date charm signet
Durable reinforcement metal clasp holder
There are many products out there that parents can get for their children as they graduate from primary/secondary school. One of the best would be the Red Primary/Secondary School Graduation Cap and Tassel. It is bound to be a very fitting completion to a graduating child's graduation attire and very few products can match what it has to offer.
When it comes to the colour, red is often associated with strong and dominant symbolism. This includes strength and passion, but also includes power and highly overwhelming emotions. This makes it quite attractive to many buyers, hence the reason for the rise in the demand of such items over the years.
For those who want their kids to stand out during the graduation ceremony, then this is definitely the product to get. It is very beautiful, with a simple elegance that projects a certain magnificence that is undeniable to behold. There would be no regrets whatsoever when buying this particular item.
You've just added this product to the cart:
Red Primary / Secondary Cap & Tassel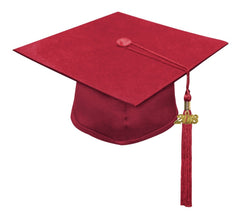 View cart
Continue Shopping
Size Chart Table
Size
39
42
45
45XL
48
48XL
51
54
54XL
57
57XL
60
63
63XL
66
Height
4'6" - 4'8"
4'9" - 4'11"
5'0" - 5'2"
5'0" - 5'2"
5'3" - 5'5"
5'3" - 5'5"
5'6" - 5'8"
5'9" - 5'11"
5'9" - 5'11"
6'0" - 6'2"
6'0" - 6'2"
6'3" - 6'5"
6'6" - 6'8"
6'6" - 6'8"
6'9" - 6'11"
Height(cm)
137 - 142 cm
145 - 150 cm
152 - 157 cm
152 - 157 cm
160 - 165 cm
160 - 165 cm
168 - 173 cm
175 - 180 cm
175 - 180 cm
183 - 188 cm
183 - 188 cm
191 - 196 cm
198 - 203 cm
198 - 203 cm
206 - 211 cm
Weight Below
180lbs
180lbs
180lbs
180lbs
180lbs
180lbs
270lbs
270lbs
270lbs
270lbs
270lbs
330lbs
330lbs
330lbs
330lbs