Smooth dull finish that is non see-through
Comfy band that has a one size fits all sizing
Tough reinforcement all throughout
Spare room beneath the top button allows for quicker and easier access to the tassel
Black Graduation Tassel is of high quality
Present year charm (signet) is free moving
6" hang loop makes for easy fitting to the cap
Every tassel arrives with a present year date charm signet
Durable reinforcement metal clasp holder
When donning classic graduation attire, know that it will never be complete without a graduation cap and tassel. If you are in the market for one, the Black Primary/Secondary School Graduation Cap and Tassel is one of the best items currently available. Closer inspection will allow you to see why it stands head and shoulders above the competition.
The colour black is considered part of the classic look and has been adopted and used by numerous academic institutions. There are some that would even refer to it as an iconic colour that graduation attire is most commonly associated with. It definitely helps make the item look absolutely breath-taking.
Concerning the individual pieces, take comfort in the fact that each of them are impeccably made, including the Black Primary/Secondary School Graduation Cap and Tassel. This headpiece is the one that sticks out the most and having this particular item on is a surefire way to stand out amongst your peers during the big event.
You've just added this product to the cart:
Black Primary / Secondary Cap & Tassel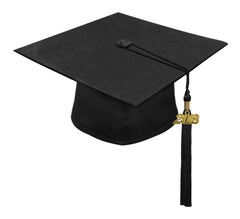 View cart
Continue Shopping
Size Chart Table
Size
39
42
45
45XL
48
48XL
51
54
54XL
57
57XL
60
63
63XL
66
Height
4'6" - 4'8"
4'9" - 4'11"
5'0" - 5'2"
5'0" - 5'2"
5'3" - 5'5"
5'3" - 5'5"
5'6" - 5'8"
5'9" - 5'11"
5'9" - 5'11"
6'0" - 6'2"
6'0" - 6'2"
6'3" - 6'5"
6'6" - 6'8"
6'6" - 6'8"
6'9" - 6'11"
Height(cm)
137 - 142 cm
145 - 150 cm
152 - 157 cm
152 - 157 cm
160 - 165 cm
160 - 165 cm
168 - 173 cm
175 - 180 cm
175 - 180 cm
183 - 188 cm
183 - 188 cm
191 - 196 cm
198 - 203 cm
198 - 203 cm
206 - 211 cm
Weight Below
180lbs
180lbs
180lbs
180lbs
180lbs
180lbs
270lbs
270lbs
270lbs
270lbs
270lbs
330lbs
330lbs
330lbs
330lbs