Black finished fabric
Matching black graduation cap is included (one size fits all)
High quality tassels and year charm with your colour of choice is included
Smooth dull finish that is not see through
Throughout the gown and cap is reinforced stitching
Durable centre pleats at the front of the gown
Comfy darted yoke
Stout zipper construction that has matching black zipper
Each Black Primary/Secondary Graduation Cap, Gown & Tassel is packaged individually in its own bag
In the market for a high quality packaged set? Look no further than the Black Primary/Secondary Graduation Cap, Gown & Tassel. It comes with everything that you could possibly want in graduation attire. This is clearly the best choice for those who would prefer to acquire everything all at once.
The colour itself is preferred by numerous academic institutions. Black is not the only colour this product is available in. It is merely the first of many choices for those who are quite particular about the look. Not that there is anything to worry about; this product has a classic look that exudes both simplicity and elegance.
As far as the details are concerned, it should be noted that everything about this is absolutely impeccable. The tassels, for example, are of the best quality and each one comes with a year charm whose colour you can personally select. The black graduation cap has a one size fits all sizing. The zipper construction is very durable and it also has a matching black zipper. A one-word association for this set is quality.
You've just added this product to the cart:
Black Primary / Secondary Cap & Gown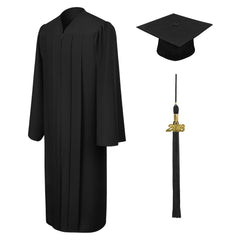 View cart
Continue Shopping
Size Chart Table
Size
39
42
45
45XL
48
48XL
51
54
54XL
57
57XL
60
63
63XL
66
Height
4'6" - 4'8"
4'9" - 4'11"
5'0" - 5'2"
5'0" - 5'2"
5'3" - 5'5"
5'3" - 5'5"
5'6" - 5'8"
5'9" - 5'11"
5'9" - 5'11"
6'0" - 6'2"
6'0" - 6'2"
6'3" - 6'5"
6'6" - 6'8"
6'6" - 6'8"
6'9" - 6'11"
Height(cm)
137 - 142 cm
145 - 150 cm
152 - 157 cm
152 - 157 cm
160 - 165 cm
160 - 165 cm
168 - 173 cm
175 - 180 cm
175 - 180 cm
183 - 188 cm
183 - 188 cm
191 - 196 cm
198 - 203 cm
198 - 203 cm
206 - 211 cm
Weight Below
180lbs
180lbs
180lbs
180lbs
180lbs
180lbs
270lbs
270lbs
270lbs
270lbs
270lbs
330lbs
330lbs
330lbs
330lbs