Royal Blue Finished Fabric
Smooth dull finish that is non see-through
Throughout the gown is reinforced stitching
Durable centre pleats at the gown's front
Comfy darted yoke
Stout zipper construction with a zipper that matches the colour
Each Royal Blue Primary/Secondary Graduation Gown has its own bag, where it is packaged into.
Graduation ceremonies are events that will remain in the minds of those involved for years to come. This is particularly true for young children graduating from primary/secondary school since this is one of the earliest academic milestones that they will achieve in their lives. To make this event even more memorable, the right graduation gown is needed.
One excellent prospect is the Royal Blue Primary/Secondary School Graduation Gown. It is a worthy product that combines highly attractive aesthetics, practicality and durability in a way that not many products would succeed in doing. In addition to that, the colour blue is also associated with positive themes such as trust and peace, which would only add to its appeal.
One can scarcely deny its magnificence. It also possesses a simple yet understated elegance. It is also a very durable product, with strong centre pleats and reinforced stitching. Adding to its convenience factor is the fact that it also comes with its own bag.
You've just added this product to the cart:
Royal Blue Primary / Secondary Gown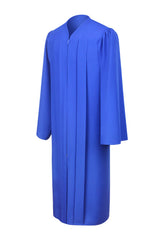 View cart
Continue Shopping
Size Chart Table
Size
39
42
45
45XL
48
48XL
51
54
54XL
57
57XL
60
63
63XL
66
Height
4'6" - 4'8"
4'9" - 4'11"
5'0" - 5'2"
5'0" - 5'2"
5'3" - 5'5"
5'3" - 5'5"
5'6" - 5'8"
5'9" - 5'11"
5'9" - 5'11"
6'0" - 6'2"
6'0" - 6'2"
6'3" - 6'5"
6'6" - 6'8"
6'6" - 6'8"
6'9" - 6'11"
Height(cm)
137 - 142 cm
145 - 150 cm
152 - 157 cm
152 - 157 cm
160 - 165 cm
160 - 165 cm
168 - 173 cm
175 - 180 cm
175 - 180 cm
183 - 188 cm
183 - 188 cm
191 - 196 cm
198 - 203 cm
198 - 203 cm
206 - 211 cm
Weight Below
180lbs
180lbs
180lbs
180lbs
180lbs
180lbs
270lbs
270lbs
270lbs
270lbs
270lbs
330lbs
330lbs
330lbs
330lbs