Hunter finished fabric
Matching black graduation cap is included (one size fits all)
High quality tassels and year charm with your colour of choice is included
Smooth dull finish that is not see through
Throughout the gown and cap is reinforced stitching
Durable centre pleats at the front of the gown
Comfy darted yoke
Stout zipper construction that has matching hunter zipper
Each Hunter Primary/Secondary Graduation Cap, Gown & Tassel is packaged individually in its own bag
There are several things that can make a youngster's graduation from primary/secondary school even more memorable than it already is. One of these things is the complete Hunter Graduation Cap, Gown and Tassel packaged set. This is a product that is worth every penny you spend on it as you will soon see.
Hunter is a variant of green, which is a colour that is closely associated with nature, health and youth, which are all good things to think of when you consider that young children are the ones who will walk down that aisle during the graduation ceremony, wearing these wonderful products.
There is little to be worried about when it concerns the Hunter Graduation Cap, Gown and Tassel set. Customers will find that each piece complement each other marvelously, leading to a very high value packaged set. For convenience purposes, the set also comes in its own bag.
You've just added this product to the cart:
Navy Blue Primary / Secondary Cap & Gown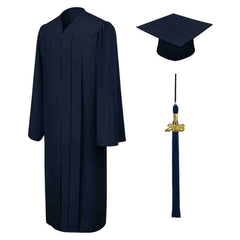 View cart
Continue Shopping
Size Chart Table
Size
39
42
45
45XL
48
48XL
51
54
54XL
57
57XL
60
63
63XL
66
Height
4'6" - 4'8"
4'9" - 4'11"
5'0" - 5'2"
5'0" - 5'2"
5'3" - 5'5"
5'3" - 5'5"
5'6" - 5'8"
5'9" - 5'11"
5'9" - 5'11"
6'0" - 6'2"
6'0" - 6'2"
6'3" - 6'5"
6'6" - 6'8"
6'6" - 6'8"
6'9" - 6'11"
Height(cm)
137 - 142 cm
145 - 150 cm
152 - 157 cm
152 - 157 cm
160 - 165 cm
160 - 165 cm
168 - 173 cm
175 - 180 cm
175 - 180 cm
183 - 188 cm
183 - 188 cm
191 - 196 cm
198 - 203 cm
198 - 203 cm
206 - 211 cm
Weight Below
180lbs
180lbs
180lbs
180lbs
180lbs
180lbs
270lbs
270lbs
270lbs
270lbs
270lbs
330lbs
330lbs
330lbs
330lbs