Top quality, durable, and comfortable material in an elegant hunter green
Comfy band has a one size fits all sizing
Strong and enduring reinforcement is present throughout
Under the top button, there is extra room which allows quicker and easier access to the tassel
Each American Hunter Bachelors Graduation Cap is packaged individually within its own bag
The hunter bachelor graduation cap is one of those items that are able to catch people's eyes from the get-go. It is a product that has a high standard of quality that simply cannot be ignored. It may come together with a set or it be ordered separately.
The colour of vitality and serenity, hunter green is perfect for a degree ceremony that needs to communicate the positive change and healing that graduates will do once they go out into the wider world. Our bachelor graduation cap aims to live up to the symbolism inherent in his colour through its quality, comfort, and convenience.
Made of quality materials specifically to ensure comfort and durability, this is a cap fashioned with great care and precision. From its one-size-fits all size, to its sturdy but comfortable fit, to the extra room under the top button for easy tassel access, this is a cap that will look fantastic for the photographs while feeling fantastic on the big day.
You've just added this product to the cart:
American Hunter Bachelors Graduation Cap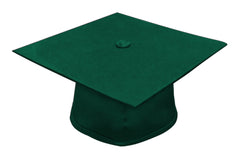 View cart
Continue Shopping
Size Chart Table
Size
39
42
45
45XL
48
48XL
51
54
54XL
57
57XL
60
63
63XL
66
Height
4'6" - 4'8"
4'9" - 4'11"
5'0" - 5'2"
5'0" - 5'2"
5'3" - 5'5"
5'3" - 5'5"
5'6" - 5'8"
5'9" - 5'11"
5'9" - 5'11"
6'0" - 6'2"
6'0" - 6'2"
6'3" - 6'5"
6'6" - 6'8"
6'6" - 6'8"
6'9" - 6'11"
Height(cm)
137 - 142 cm
145 - 150 cm
152 - 157 cm
152 - 157 cm
160 - 165 cm
160 - 165 cm
168 - 173 cm
175 - 180 cm
175 - 180 cm
183 - 188 cm
183 - 188 cm
191 - 196 cm
198 - 203 cm
198 - 203 cm
206 - 211 cm
Weight Below
180lbs
180lbs
180lbs
180lbs
180lbs
180lbs
270lbs
270lbs
270lbs
270lbs
270lbs
330lbs
330lbs
330lbs
330lbs