Durable, comfortable, high quality material in lively yet respectable red.
One size fits all sizing, all under a wonderfully comfortable band
Strong and enduring reinforcement is present throughout
Under the top button, there is extra room which allows quicker and easier access to the tassel
Each American Red Bachelors Graduation Cap is specially packed with care in its own bag
Many universities still require one to complete their graduation wear through the donning of that ubiquitous symbol for graduation, the graduation cap, and to ensure the attire worn for this important ceremony is complete, one needs to obtain said graduation cap. So if you're looking to complete your graduation look, one of the best products to go for would be Graduation.co.uk's Red Bachelor Graduation Cap, which can be obtained by itself or as part of a packaged set.
The colour red is also a very attractive colour due to its association with the attributes of strength, excitement, passion and strong emotions overall, and we intend to create caps that do justice to the symbolism inherent in its colour.
This strong and beautiful graduation cap has the type of quality that many similar products would struggle to rival. Among its winning features are its special easy access to the tassel, 'one size fits all' capacity and its superb quality red fabric, all at a very friendly price. This is one product that is bound to guarantee its users outstanding comfort, quality and style.
You've just added this product to the cart:
American Red Bachelors Graduation Cap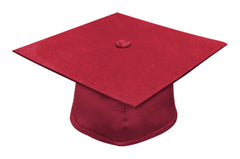 View cart
Continue Shopping
Size Chart Table
Size
39
42
45
45XL
48
48XL
51
54
54XL
57
57XL
60
63
63XL
66
Height
4'6" - 4'8"
4'9" - 4'11"
5'0" - 5'2"
5'0" - 5'2"
5'3" - 5'5"
5'3" - 5'5"
5'6" - 5'8"
5'9" - 5'11"
5'9" - 5'11"
6'0" - 6'2"
6'0" - 6'2"
6'3" - 6'5"
6'6" - 6'8"
6'6" - 6'8"
6'9" - 6'11"
Height(cm)
137 - 142 cm
145 - 150 cm
152 - 157 cm
152 - 157 cm
160 - 165 cm
160 - 165 cm
168 - 173 cm
175 - 180 cm
175 - 180 cm
183 - 188 cm
183 - 188 cm
191 - 196 cm
198 - 203 cm
198 - 203 cm
206 - 211 cm
Weight Below
180lbs
180lbs
180lbs
180lbs
180lbs
180lbs
270lbs
270lbs
270lbs
270lbs
270lbs
330lbs
330lbs
330lbs
330lbs