Durable, non-see-through, black material with a smooth and comfortable finish
Comfy band constructed to fit all head shapes and sizes
Strong and enduring reinforcement is present throughout
Under the top button, there is extra room which allows quicker and easier access to the tassel
Each American Black Bachelors Graduation Cap is packaged within its own special bag
When people think of graduation attire, that image would never be complete without the appropriate graduation cap to go along with the gown. With so many products in the market to choose from, some might say that choosing the right black bachelor graduation cap will get lost in the shuffle. However, that's not going to be the case.
With its superior quality, this graduation cap provides a comfortable experience and a dignified look you're sure to want to remember, all at a price that proves that quality doesn't always mean spending a fortune. This square cap boasts several features that are sure to please any customer; with its black matte finished fabric, comfortable band, sturdy reinforcements, and 'one size fits all' capacity.
Black is also the colour that has been the favourite choice for numerous universities. It has been put to good use not only for graduation events, but also for daily school activities. The superior quality and the choice of colour makes this item one of our most sought after products, and a definite customer favourite in its own right.
You've just added this product to the cart:
American Black Bachelors Graduation Cap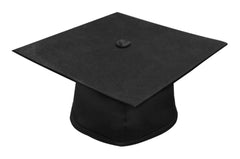 View cart
Continue Shopping
Size Chart Table
Size
39
42
45
45XL
48
48XL
51
54
54XL
57
57XL
60
63
63XL
66
Height
4'6" - 4'8"
4'9" - 4'11"
5'0" - 5'2"
5'0" - 5'2"
5'3" - 5'5"
5'3" - 5'5"
5'6" - 5'8"
5'9" - 5'11"
5'9" - 5'11"
6'0" - 6'2"
6'0" - 6'2"
6'3" - 6'5"
6'6" - 6'8"
6'6" - 6'8"
6'9" - 6'11"
Height(cm)
137 - 142 cm
145 - 150 cm
152 - 157 cm
152 - 157 cm
160 - 165 cm
160 - 165 cm
168 - 173 cm
175 - 180 cm
175 - 180 cm
183 - 188 cm
183 - 188 cm
191 - 196 cm
198 - 203 cm
198 - 203 cm
206 - 211 cm
Weight Below
180lbs
180lbs
180lbs
180lbs
180lbs
180lbs
270lbs
270lbs
270lbs
270lbs
270lbs
330lbs
330lbs
330lbs
330lbs