Quality, comfortable, non-see-through material in elegant navy blue
Comfy band has a one size fits all sizing
Strong and enduring reinforcement is present throughout
Under the top button, there is extra room which allows quicker and easier access to the tassel
Each American Navy Blue Bachelors Graduation Cap is packaged individually within its own bag
The Navy Bachelor Graduation Cap is an item that would stop most customers in their tracks. It is simply magnificent in its simplicity and quiet elegance. It should be obvious from the start that this is no ordinary product, but something that adheres to a much higher standard than similar products in this price range.
For degree ceremonies that need a disciplined, unified, and still beautiful look, navy blue makes a great fit. The colour of calm and responsibility, navy blue is perfect for telling the world that these life-changing years at university have moulded students into graduates ready for all that lies before them.
Reinforcement features all throughout this beautiful mortarboard, ensuring a cap that won't fail you on the big day. Complementing the strength is a comfortable fit, designed to fit all sizes while providing a little extra room under the top button for more convenient access to the tassel. For an excellent product with unbelievable quality, craftsmanship, comfort, and design, all at a convenient price, look to Graduation.co.uk's navy bachelor graduation cap for what you need.
You've just added this product to the cart:
American Navy Blue Bachelors Graduation Cap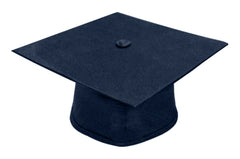 View cart
Continue Shopping
Size Chart Table
Size
39
42
45
45XL
48
48XL
51
54
54XL
57
57XL
60
63
63XL
66
Height
4'6" - 4'8"
4'9" - 4'11"
5'0" - 5'2"
5'0" - 5'2"
5'3" - 5'5"
5'3" - 5'5"
5'6" - 5'8"
5'9" - 5'11"
5'9" - 5'11"
6'0" - 6'2"
6'0" - 6'2"
6'3" - 6'5"
6'6" - 6'8"
6'6" - 6'8"
6'9" - 6'11"
Height(cm)
137 - 142 cm
145 - 150 cm
152 - 157 cm
152 - 157 cm
160 - 165 cm
160 - 165 cm
168 - 173 cm
175 - 180 cm
175 - 180 cm
183 - 188 cm
183 - 188 cm
191 - 196 cm
198 - 203 cm
198 - 203 cm
206 - 211 cm
Weight Below
180lbs
180lbs
180lbs
180lbs
180lbs
180lbs
270lbs
270lbs
270lbs
270lbs
270lbs
330lbs
330lbs
330lbs
330lbs