Durable and comfortable high quality maroon fabric
Comfortable yet sturdy band, one size fits all
Strong and enduring reinforcement is present throughout
Under the top button, there is extra room which allows quicker and easier access to the tassel
Each American Maroon Bachelors Graduation Cap is packaged individually within its own bag
Our high quality maroon bachelor graduation cap can be bought by itself or as part of a wonderful complete packaged set. Regardless of how the product is ordered, the maroon bachelor graduation cap upholds a certain standard of excellence that is hard to find nowadays.
It's hard to deny the level of quality and value for money present in this classic graduation cap. Gentler than burgundy but more reserved than the brighter shades of red, maroon is an underappreciated shade of reddish brown. Symbolically, it is the colour of courage, strength, and thoughtful and measured heroism, a fitting shade for symbolising the dedication and fortitude needed to finish your course.
We use quality, reliable materials to carefully construct a product that is both comfortable and dignified. And with extra features such as the one size fits all band and the extra room under the top button for easy tassel access, this mortarboard is as functional as it is beautifully photogenic.
You've just added this product to the cart:
American Maroon Bachelors Graduation Cap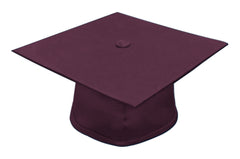 View cart
Continue Shopping
Size Chart Table
Size
39
42
45
45XL
48
48XL
51
54
54XL
57
57XL
60
63
63XL
66
Height
4'6" - 4'8"
4'9" - 4'11"
5'0" - 5'2"
5'0" - 5'2"
5'3" - 5'5"
5'3" - 5'5"
5'6" - 5'8"
5'9" - 5'11"
5'9" - 5'11"
6'0" - 6'2"
6'0" - 6'2"
6'3" - 6'5"
6'6" - 6'8"
6'6" - 6'8"
6'9" - 6'11"
Height(cm)
137 - 142 cm
145 - 150 cm
152 - 157 cm
152 - 157 cm
160 - 165 cm
160 - 165 cm
168 - 173 cm
175 - 180 cm
175 - 180 cm
183 - 188 cm
183 - 188 cm
191 - 196 cm
198 - 203 cm
198 - 203 cm
206 - 211 cm
Weight Below
180lbs
180lbs
180lbs
180lbs
180lbs
180lbs
270lbs
270lbs
270lbs
270lbs
270lbs
330lbs
330lbs
330lbs
330lbs