White Finished Fabric
Smooth dull finish that is non see-through
Throughout the gown is reinforced stitching
Durable centre pleats at the gown's front
Comfy darted yoke
Stout zipper construction with a zipper that matches the colour
Each White Primary/Secondary Graduation Gown has its own bag, where it is packaged into.
People treat ceremonies like graduation with the utmost respect. This is done to honour the academic accomplishments of the graduates, and for those who are graduating from primary/secondary school, the accomplishment marks the first major accomplishment of many that will presumably come over the years.
For primary school graduates, one of the best items to go for would be the White Primary/Secondary School Graduation Gown. It is a highly favoured item whose colour is associated with the notions of innocence and purity, which are fitting themes to associate with any graduating child. It is also a highly capable product that any person would want.
There is no denying its magnificence. It has a very simple yet understated elegance that many would find very appealing. It is also quite durable, with reinforced stitching and strong centre pleats in front. To add to its convenience factor, it also comes with its own bag. It is a truly recommendable product for anyone in the market for a graduation gown.
You've just added this product to the cart:
White Primary / Secondary Gown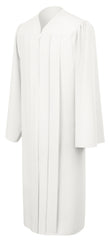 View cart
Continue Shopping
Size Chart Table
Size
39
42
45
45XL
48
48XL
51
54
54XL
57
57XL
60
63
63XL
66
Height
4'6" - 4'8"
4'9" - 4'11"
5'0" - 5'2"
5'0" - 5'2"
5'3" - 5'5"
5'3" - 5'5"
5'6" - 5'8"
5'9" - 5'11"
5'9" - 5'11"
6'0" - 6'2"
6'0" - 6'2"
6'3" - 6'5"
6'6" - 6'8"
6'6" - 6'8"
6'9" - 6'11"
Height(cm)
137 - 142 cm
145 - 150 cm
152 - 157 cm
152 - 157 cm
160 - 165 cm
160 - 165 cm
168 - 173 cm
175 - 180 cm
175 - 180 cm
183 - 188 cm
183 - 188 cm
191 - 196 cm
198 - 203 cm
198 - 203 cm
206 - 211 cm
Weight Below
180lbs
180lbs
180lbs
180lbs
180lbs
180lbs
270lbs
270lbs
270lbs
270lbs
270lbs
330lbs
330lbs
330lbs
330lbs