Our UK style Tudor Bonnets are the perfect accompaniment to your PhD or Doctoral attire. Made from the highest quality velvet, and with a durable and comfortable design, they are available in Cardinal Red (gold cord), Royal Blue (gold cord), Black (Maroon cord) and Black (Gold cord). American style Doctoral Tams are also available.
The correct way to measure your head circumference: The correct way to measure your head size to take the circumference approximately 1 inch above your eyebrows. If you are not sure what size you need (e.g. you land on the boundary), we would recommend going for the larger size, allowing a more comfortable fit.


A Tudor bonnet is a velvet round academic cap with a long honour tassel hanging from a cord which is circled around the cap. It is also known as a round doctoral bonnet or PhD cap.

It is mostly worn as part of academic dress by a person who holds a doctorate degree, mainly by those holding a research or professional doctoral degree. It is also often worn by those holding an honourary or full higher doctorate, and, at certain educational establishments, by University Officers, such as the University Marshal, the president of the students' union, and members of the university council.
In some educational establishments, or some faculties of some educational establishments, a mortarboard is worn instead.
They can be made of a high quality velvet, usually black is the most worn colour however produced in other colours. As the name suggests, the Tudor bonnet was popularly worn during Tudor times.
You've just added this product to the cart:
University of Cumbria Doctoral Tudor Bonnet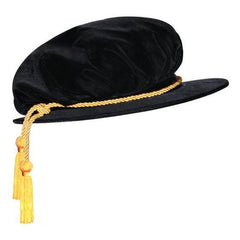 View cart
Continue Shopping
Size Chart Table
Size
39
42
45
45XL
48
48XL
51
54
54XL
57
57XL
60
63
63XL
66
Height
4'6" - 4'8"
4'9" - 4'11"
5'0" - 5'2"
5'0" - 5'2"
5'3" - 5'5"
5'3" - 5'5"
5'6" - 5'8"
5'9" - 5'11"
5'9" - 5'11"
6'0" - 6'2"
6'0" - 6'2"
6'3" - 6'5"
6'6" - 6'8"
6'6" - 6'8"
6'9" - 6'11"
Height(cm)
137 - 142 cm
145 - 150 cm
152 - 157 cm
152 - 157 cm
160 - 165 cm
160 - 165 cm
168 - 173 cm
175 - 180 cm
175 - 180 cm
183 - 188 cm
183 - 188 cm
191 - 196 cm
198 - 203 cm
198 - 203 cm
206 - 211 cm
Weight Below
180lbs
180lbs
180lbs
180lbs
180lbs
180lbs
270lbs
270lbs
270lbs
270lbs
270lbs
330lbs
330lbs
330lbs
330lbs