Red Finished Fabric
Smooth dull finish that is non see-through
Throughout the gown is reinforced stitching
Durable centre pleats at the gown's front
Comfy darted yoke
Stout zipper construction with a zipper that matches the colour
Each Red Primary/Secondary Graduation Gown has its own bag, where it is packaged into.
Graduation is that time in one's life that celebrates the struggles of an academic journey and the rewards of having completed a chapter of said journey. Primary/Secondary school graduation is one of the very first major milestones for a person to accomplish. To make this particularly memorable, the right attire is needed.
One product that can aid in that endeavor is the Red Primary/Secondary School Graduation Gown. It is a superior item that stands head and shoulders above the competition. It possesses durable centre pleats at the front of the gown as well as reinforced stitching that is present all over the gown. It is also known to come with its own bag.
The colour of the product is red, which is typically associated with passion, strength and very strong emotions. It commands the attention of anyone that lays eyes upon it and it has been known to be quite irresistible to many customers. If you are one of those people who are deeply in love with the colour, then this is another reason to acquire this particular item.
You've just added this product to the cart:
Red Primary / Secondary Gown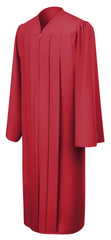 View cart
Continue Shopping
Size Chart Table
Size
39
42
45
45XL
48
48XL
51
54
54XL
57
57XL
60
63
63XL
66
Height
4'6" - 4'8"
4'9" - 4'11"
5'0" - 5'2"
5'0" - 5'2"
5'3" - 5'5"
5'3" - 5'5"
5'6" - 5'8"
5'9" - 5'11"
5'9" - 5'11"
6'0" - 6'2"
6'0" - 6'2"
6'3" - 6'5"
6'6" - 6'8"
6'6" - 6'8"
6'9" - 6'11"
Height(cm)
137 - 142 cm
145 - 150 cm
152 - 157 cm
152 - 157 cm
160 - 165 cm
160 - 165 cm
168 - 173 cm
175 - 180 cm
175 - 180 cm
183 - 188 cm
183 - 188 cm
191 - 196 cm
198 - 203 cm
198 - 203 cm
206 - 211 cm
Weight Below
180lbs
180lbs
180lbs
180lbs
180lbs
180lbs
270lbs
270lbs
270lbs
270lbs
270lbs
330lbs
330lbs
330lbs
330lbs