Beautiful red tricot fabric
Smooth non-see-through finish
Reinforced stitching all over the gown
The front has strong centre pleats
Comfy darted yoke
Sturdy colour-matching zipper
Each one has its own bag in which it's packaged in
This superior product easily captures the prestige and grandeur that graduation ceremonies are meant to embody. It is highly sturdy and comfortable, possessing numerous attractive features that, when combined, makes up this highly appealing product that both the children wearing them and their parents would find very satisfactory.
The gown is made out of a high quality tricot fabric with a non-see-through finish. It also has comfortable darted yokes and strong centre pleats on the front part. As far as its sturdiness is concerned, it has a durable zipper construction, which naturally includes a colour-matching zipper.
Speaking of the colour, red is an excellent choice in this case due to its warmth and positive energy. The colour is often associated with highly physical needs and exudes an air of strength and power. Beyond that, it also signifies leadership qualities, which should be something that all parents ought to desire for their child. Aside from the colour and all of the product's features, it also comes with a bag in which each product is individually packaged.
You've just added this product to the cart:
Red Childs Nursery Preschool Gown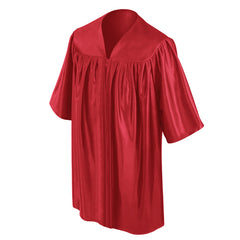 View cart
Continue Shopping
Size Chart Table
Height(cm)
3'6" - 3'8"
3'9" - 3'11"
4'0" - 4'2"
4'3" - 4'5"
Height
107 - 113 cm
114 - 120 cm
121 - 127 cm
129 - 134 cm
Weight Below
100lbs
100lbs
100lbs
130lbs