Maroon Finished Fabric
Smooth dull finish that is non see-through
Throughout the gown is reinforced stitching
Durable centre pleats at the gown's front
Comfy darted yoke
Stout zipper construction with a zipper that matches the colour
Each Maroon Primary/Secondary Graduation Gown has its own bag, where it is packaged into.
For students, there are few things that can be as satisfying as actually graduating after years of struggle and hardships. It is the day where all of their substantial efforts are rewarded. Even young children graduating from primary/secondary school are known to appreciate this very special day. To make it even more special, one must take great care to acquire only the best.
Graduation attire can come in different styles and colours. But if a recommendation has to be made, very few can top the Maroon Primary/Secondary School Graduation Gown. It is a very superior product that stands out amongst the competition due to the excellent visual quality it presents and the sturdy and highly reliable materials that it is made from.
Maroon is a red-brown colour that is often associated with clay or even Mother Nature herself. Because of his earth-based associations, the symbolism even extends to healing and the ability to repel any and all malevolent spirits. This makes it a very good choice for those who pride themselves on being down to earth and one with nature.
You've just added this product to the cart:
Maroon Primary / Secondary Gown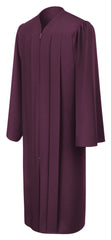 View cart
Continue Shopping
Size Chart Table
Size
39
42
45
45XL
48
48XL
51
54
54XL
57
57XL
60
63
63XL
66
Height
4'6" - 4'8"
4'9" - 4'11"
5'0" - 5'2"
5'0" - 5'2"
5'3" - 5'5"
5'3" - 5'5"
5'6" - 5'8"
5'9" - 5'11"
5'9" - 5'11"
6'0" - 6'2"
6'0" - 6'2"
6'3" - 6'5"
6'6" - 6'8"
6'6" - 6'8"
6'9" - 6'11"
Height(cm)
137 - 142 cm
145 - 150 cm
152 - 157 cm
152 - 157 cm
160 - 165 cm
160 - 165 cm
168 - 173 cm
175 - 180 cm
175 - 180 cm
183 - 188 cm
183 - 188 cm
191 - 196 cm
198 - 203 cm
198 - 203 cm
206 - 211 cm
Weight Below
180lbs
180lbs
180lbs
180lbs
180lbs
180lbs
270lbs
270lbs
270lbs
270lbs
270lbs
330lbs
330lbs
330lbs
330lbs