Made of durable twisted material
Thick coloured cord
From each end, it is 39.4" in length
Large 2.95" bulb tassels can be found at every end
Knotted ends are secure
Gold nursery honour cord is ideal for the honour recognition in graduations
Every gold nursery honour cord is packaged one by one in its own poly bag
Nursery graduation is something that most parents simply cannot wait for! After all, who wouldn't want to see their kid graduate for the very first time? It is a momentous time in the life of the child as well as the parents.
When going through a child's graduation for the first time, one item that should not be overlooked is the Gold Nursery Graduation Honour Cord. This premium item is basically intertwined strands with each end having a tassel. Such things are worn around the neck. The ends hang down the front of the graduate's gown and there will be two tassels on every side.
There is bound to be very little doubt regarding the quality of this item either. Each one is made to perfection and it can be guaranteed to meet and even exceed the expectations of customers. Not convinced? Try them out for yourself and see the results.
You've just added this product to the cart:
Gold Childs Nursery Preschool Honour Cord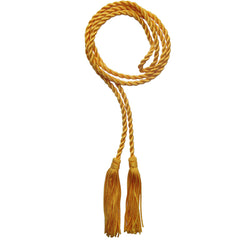 View cart
Continue Shopping
Size Chart Table
Size
39
42
45
45XL
48
48XL
51
54
54XL
57
57XL
60
63
63XL
66
Height
4'6" - 4'8"
4'9" - 4'11"
5'0" - 5'2"
5'0" - 5'2"
5'3" - 5'5"
5'3" - 5'5"
5'6" - 5'8"
5'9" - 5'11"
5'9" - 5'11"
6'0" - 6'2"
6'0" - 6'2"
6'3" - 6'5"
6'6" - 6'8"
6'6" - 6'8"
6'9" - 6'11"
Height(cm)
137 - 142 cm
145 - 150 cm
152 - 157 cm
152 - 157 cm
160 - 165 cm
160 - 165 cm
168 - 173 cm
175 - 180 cm
175 - 180 cm
183 - 188 cm
183 - 188 cm
191 - 196 cm
198 - 203 cm
198 - 203 cm
206 - 211 cm
Weight Below
180lbs
180lbs
180lbs
180lbs
180lbs
180lbs
270lbs
270lbs
270lbs
270lbs
270lbs
330lbs
330lbs
330lbs
330lbs