High quality gold bridal satin
'Proud Graduate' clearly printed in a friendly typeface
Edges are arrow pointed
Fits all body types
Sides are 25" long and 3.5" wide each
Fully lined
Is considered ideal for honour recognition for nursery graduation
Each Gold Nursery Graduation Stole comes packaged in its own bag
Go for the gold with Gold Nursery Graduation Stoles. After all, your child is going to have only one first graduation? Why bother settling for less when you can go straight to the top? With Gold Nursery Graduation Stoles, your child can feel supremely confident and successful in having conquered one chapter of his or her young life and stroll confidently towards the next one.
For those who remain unsure about the purchase, take heart and know that there are many things that can be said about these items. Anyone can easily take note of the high quality gold bridal satin. The overall design is beautiful in its simplicity, and is accentuated by other designs such as edges being arrow pointed and the fact that one size fits all.
It looks beautiful, it's extremely versatile, and it gets the job done. What else can you ask for? It is ideal for honour recognitions during nursery graduations. It also comes packaged in its very own poly bag.
You've just added this product to the cart:
Gold Childs Nursery Preschool Stole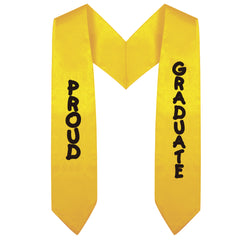 View cart
Continue Shopping
Size Chart Table
Size
39
42
45
45XL
48
48XL
51
54
54XL
57
57XL
60
63
63XL
66
Height
4'6" - 4'8"
4'9" - 4'11"
5'0" - 5'2"
5'0" - 5'2"
5'3" - 5'5"
5'3" - 5'5"
5'6" - 5'8"
5'9" - 5'11"
5'9" - 5'11"
6'0" - 6'2"
6'0" - 6'2"
6'3" - 6'5"
6'6" - 6'8"
6'6" - 6'8"
6'9" - 6'11"
Height(cm)
137 - 142 cm
145 - 150 cm
152 - 157 cm
152 - 157 cm
160 - 165 cm
160 - 165 cm
168 - 173 cm
175 - 180 cm
175 - 180 cm
183 - 188 cm
183 - 188 cm
191 - 196 cm
198 - 203 cm
198 - 203 cm
206 - 211 cm
Weight Below
180lbs
180lbs
180lbs
180lbs
180lbs
180lbs
270lbs
270lbs
270lbs
270lbs
270lbs
330lbs
330lbs
330lbs
330lbs