White cord is thick and constructed from strong materials
From end to end, it is 68" in length
At each end are large 4" bulb tassels
Knotted ends are secure
This honour cord is ideal for honour recognition for your graduation
Every white college graduation honour cord is packaged individually in its own poly bag
For your graduation, one product that is sure to be a hit is the white single honour cord. It is a reliable, exquisite item that boasts quality normally hard to find within this price range.
Due to the strong twisted material that it is made from as well as its thickness, this product will definitely be durable enough to last long after the degree ceremony. It also has an adequate length, being 68" in length from end to end with a big 4" bulb tassel at each end. There is also no need to worry about the knotted ends, since those are already quite secure.
This is an item that many would love to have as part of their graduation attire, and not just because of the prestige involved in being worthy of one. In white, the colour of purity and optimism, this cord does more than just show one's academic achievements; it also communicates the hope in graduate's bright and happy future after graduation.
You've just added this product to the cart:
White University Honour Cord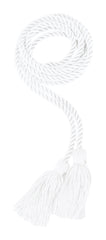 View cart
Continue Shopping
Size Chart Table
Size
39
42
45
45XL
48
48XL
51
54
54XL
57
57XL
60
63
63XL
66
Height
4'6" - 4'8"
4'9" - 4'11"
5'0" - 5'2"
5'0" - 5'2"
5'3" - 5'5"
5'3" - 5'5"
5'6" - 5'8"
5'9" - 5'11"
5'9" - 5'11"
6'0" - 6'2"
6'0" - 6'2"
6'3" - 6'5"
6'6" - 6'8"
6'6" - 6'8"
6'9" - 6'11"
Height(cm)
137 - 142 cm
145 - 150 cm
152 - 157 cm
152 - 157 cm
160 - 165 cm
160 - 165 cm
168 - 173 cm
175 - 180 cm
175 - 180 cm
183 - 188 cm
183 - 188 cm
191 - 196 cm
198 - 203 cm
198 - 203 cm
206 - 211 cm
Weight Below
180lbs
180lbs
180lbs
180lbs
180lbs
180lbs
270lbs
270lbs
270lbs
270lbs
270lbs
330lbs
330lbs
330lbs
330lbs