It is created from white bridal satin of exceptional quality
The edges are arrow pointed
The shape is created to fit all body types
Every side is 31" long and around 5" wide
It is fully lined throughout
This item is ideal for honour recognition during primary/secondary school graduation
Each White Primary/Secondary School Graduation Stole is packaged individually in its very own poly bag
There are quite a few accessories that graduating students can adorn themselves with. One of these accessories would be graduation stoles. Such items are perfect for those young children who are graduating from primary/secondary school. There is no doubt that many parents would definitely agree with this assessment.
White Primary/Secondary School Graduation Stoles have numerous interesting attributes that may be of great interest to parents that are looking for the best products for their kids. It is made out of a high quality white bridal satin. The edges are also arrow pointed, which gives it a simple yet classy look that is bound to be pleasing to just about anyone.
For those who are looking for something that can be easily worn by all body types, then this is the perfect product to get. There are many that look at it as being quite ideal for honour recognition and it is quite easy to see why. Lastly, it also comes with its own poly bag.
You've just added this product to the cart:
White Primary / Secondary Stole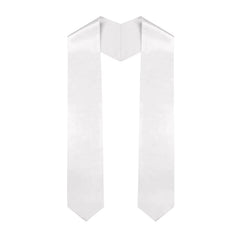 View cart
Continue Shopping
Size Chart Table
Size
39
42
45
45XL
48
48XL
51
54
54XL
57
57XL
60
63
63XL
66
Height
4'6" - 4'8"
4'9" - 4'11"
5'0" - 5'2"
5'0" - 5'2"
5'3" - 5'5"
5'3" - 5'5"
5'6" - 5'8"
5'9" - 5'11"
5'9" - 5'11"
6'0" - 6'2"
6'0" - 6'2"
6'3" - 6'5"
6'6" - 6'8"
6'6" - 6'8"
6'9" - 6'11"
Height(cm)
137 - 142 cm
145 - 150 cm
152 - 157 cm
152 - 157 cm
160 - 165 cm
160 - 165 cm
168 - 173 cm
175 - 180 cm
175 - 180 cm
183 - 188 cm
183 - 188 cm
191 - 196 cm
198 - 203 cm
198 - 203 cm
206 - 211 cm
Weight Below
180lbs
180lbs
180lbs
180lbs
180lbs
180lbs
270lbs
270lbs
270lbs
270lbs
270lbs
330lbs
330lbs
330lbs
330lbs