Cream Colour Stock with Slight Texture
High Quality 65# Cover Weight Stock
Certificate has Imprint "Diploma of Graduation"
Blank Lines for Convenience of Administrators
8 ½ Inches x 11 inches
Whether the recipient is graduating from an academic setting, an elective course or even a sports class, awarding this stock diploma will make them feel accomplished and signify that their achievements have been noticed and appreciated. Each diploma is printed on high quality and thick paper stock, meaning it will be treasured and kept for years to come by the recipients. An impressive insignia is repeated on the background, making it impossible to copy and easy to tell that it is an original piece. The words, "Diploma of Graduation" in large and regal letters adorn the top of the certificate, making it clear what the award is for. In addition, there are several blank lines meant for use by the administration. The lines can be filled in with the name of the school or course, graduate's name and dates of attendance or graduation. There is also space to be signed by the head administration to prove it is an authentic diploma. Please take a moment to view our full line of Diploma Frames. No matter what you're looking for, we are bound to have the perfect graduation gift.
You've just added this product to the cart:
University Diploma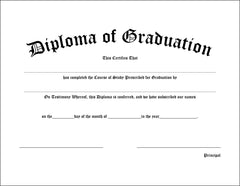 View cart
Continue Shopping
Size Chart Table
Size
39
42
45
45XL
48
48XL
51
54
54XL
57
57XL
60
63
63XL
66
Height
4'6" - 4'8"
4'9" - 4'11"
5'0" - 5'2"
5'0" - 5'2"
5'3" - 5'5"
5'3" - 5'5"
5'6" - 5'8"
5'9" - 5'11"
5'9" - 5'11"
6'0" - 6'2"
6'0" - 6'2"
6'3" - 6'5"
6'6" - 6'8"
6'6" - 6'8"
6'9" - 6'11"
Height(cm)
137 - 142 cm
145 - 150 cm
152 - 157 cm
152 - 157 cm
160 - 165 cm
160 - 165 cm
168 - 173 cm
175 - 180 cm
175 - 180 cm
183 - 188 cm
183 - 188 cm
191 - 196 cm
198 - 203 cm
198 - 203 cm
206 - 211 cm
Weight Below
180lbs
180lbs
180lbs
180lbs
180lbs
180lbs
270lbs
270lbs
270lbs
270lbs
270lbs
330lbs
330lbs
330lbs
330lbs