Royal blue tricot fabric
Smooth non-see-through finish
Reinforced stitching all over the gown
The front has strong centre pleats
Comfy darted yoke
Sturdy colour-matching zipper
Each royal blue gown has its own bag in which it's packaged in
Looking for the perfect gown for your child's nursery graduation ceremony? Does your child's school either require royal blue robes or allow you to choose a colour? Then it's hard to go wrong with vibrant, yet tasteful, royal blue.
Our Royal Blue Nursery Graduation Gown is the colour of loyalty, honesty and trust: three things that parents should aspire for their young children. It also represents sincerity, reservation and quiet. The colour represents a dislike of confrontation and a preference for doing things in its own way. It exhibits confidence and an inner security, which means you can rely on it to take control and do what is right in more difficult times.
Its quality is top-notch. It is guaranteed to be excellent and one can expect a high level of comfort and durability, with an assortment of features that include comfortable darted yokes, sturdy zipper construction and centre pleats at the front. It also comes packaged in its own bag.
You've just added this product to the cart:
Royal Blue Childs Nursery Preschool Gown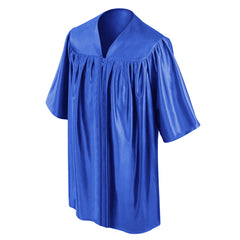 View cart
Continue Shopping
Size Chart Table
Height(cm)
3'6" - 3'8"
3'9" - 3'11"
4'0" - 4'2"
4'3" - 4'5"
Height
107 - 113 cm
114 - 120 cm
121 - 127 cm
129 - 134 cm
Weight Below
100lbs
100lbs
100lbs
130lbs