Smooth finish, non see through
Comfy band with one size fits all sizing
Reinforcement is considered strong and durable
Additional room under the top button means quicker and easier access to the tassel
Red graduation tassel of high quality
Present year charm that's free moving
9" tassel length without hang loop
6" hang loop allows for easy fitting to the cap
A current year date charm signet comes with each tassel
Strong reinforcement metal clasp holder
The size of the cap measures between 6 1/8 – 7 inches
On the lookout for a product that not only fits just right, but also has the proper functionality and look? Then look no further than Graduation UK's Royal Blue Nursery Graduation Cap & Tassel. It may not be the whole graduation academical dress, but the whole thing would not be complete without it either.
For parents with children graduating for the first time ever, acquiring the right attire would be of utmost importance. This item is made from royal blue tricot fabrics in a way that enables it to fit all sizes whenever needed. Its versatility makes it a very attractive product to everyone involved, including the children and their parents.
This is an A+ product that proves itself worthy of respect and admiration. It possesses all the qualities for success, including aesthetics and practicality. You'd be hard pressed to find anyone with a legitimate gripe or criticism against it.
You've just added this product to the cart:
Royal Blue Childs Nursery Preschool Cap & Tassel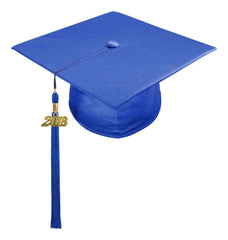 View cart
Continue Shopping
Size Chart Table
Size
39
42
45
45XL
48
48XL
51
54
54XL
57
57XL
60
63
63XL
66
Height
4'6" - 4'8"
4'9" - 4'11"
5'0" - 5'2"
5'0" - 5'2"
5'3" - 5'5"
5'3" - 5'5"
5'6" - 5'8"
5'9" - 5'11"
5'9" - 5'11"
6'0" - 6'2"
6'0" - 6'2"
6'3" - 6'5"
6'6" - 6'8"
6'6" - 6'8"
6'9" - 6'11"
Height(cm)
137 - 142 cm
145 - 150 cm
152 - 157 cm
152 - 157 cm
160 - 165 cm
160 - 165 cm
168 - 173 cm
175 - 180 cm
175 - 180 cm
183 - 188 cm
183 - 188 cm
191 - 196 cm
198 - 203 cm
198 - 203 cm
206 - 211 cm
Weight Below
180lbs
180lbs
180lbs
180lbs
180lbs
180lbs
270lbs
270lbs
270lbs
270lbs
270lbs
330lbs
330lbs
330lbs
330lbs