Simple royal blue tricot fabric
Matching royal blue graduation cap is included (one size for all)
High quality tassel is included, along with year charm in one of several available colours
Smooth finish and opaque material
Reinforced piping and stitching all over the product
Strong centre pleats up front
Comfy darted yoke
Durable zipper constriction that includes a royal blue zipper
Every Royal Blue Nursery Graduation Cap and Gown is packaged in its own individual bag
A child's first graduation can be a very special event. After all, a child can only have one first graduation. When faced with the dilemma of getting the right attire, one would be wise to go for our Royal Blue Nursery Graduation Cap and Gown. This is one of the best packages around and it is sure to be a purchase that you will not regret.
The features of the individual items are quite impressive in their own right. It has a royal blue tricot fabric of the highest quality with a matching royal blue square cap intended to fit all sizes. There is also a tassel with a year charm with a selectable colour. The texture of the finish is quite smooth and it is also non-see-through, with reinforced stitching all over the gown.
Beyond the simple elegance is an underlying strength that must never be understated. The zipper construction is strong enough for your needs and so are the centre pleats on the front. All of this is neatly packaged inside its own bag for your convenience. A graduation cap, gown and tassel set has never been so complete.
You've just added this product to the cart:
Royal Blue Childs Nursery Preschool Cap and Gown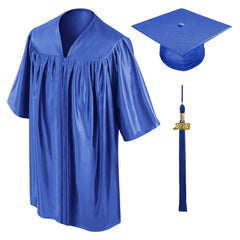 View cart
Continue Shopping
Size Chart Table
Height(cm)
3'6" - 3'8"
3'9" - 3'11"
4'0" - 4'2"
4'3" - 4'5"
Height
107 - 113 cm
114 - 120 cm
121 - 127 cm
129 - 134 cm
Weight Below
100lbs
100lbs
100lbs
130lbs