Simple red tricot fabric
Matching red graduation cap is included (one size for all)
High quality tassel is included, along with year charm with the colour of your choice
Smooth, non see through finish
Reinforced piping and stitching all over the product
Strong centre pleats up front
Comfy darted yoke
Durable zipper constriction that includes a red zipper
Each Red Nursery Graduation Cap and Gown is packaged individually in its own bag
Ready for your kid's first graduation? Well, you're never completely ready until you get yourself a decent graduation package. This is where the Red Nursery Graduation Cap and Gown come in. It is literally a complete package that will be sure to meet and even exceed any needs and expectations that you may have.
Not yet convinced? Check out the features for yourself and you'll find that its high quality red tricot fabric is of the highest quality. The package includes a matching red graduation cap that fits practically all sizes. The tassel is also present along with the year charm whose colour you can select. It possesses a smooth and non-see-through finish, along with reinforced stitching and piping all throughout.
One can also expect durability and strength the strong centre pleats up front and a strong zipper construction. All of this comes with its own bag with the graduation cap, gown and tassel all conveniently packaged within.
You've just added this product to the cart:
Red Childs Nursery Preschool Cap and Gown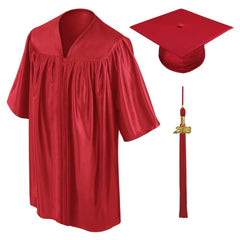 View cart
Continue Shopping
Size Chart Table
Height(cm)
3'6" - 3'8"
3'9" - 3'11"
4'0" - 4'2"
4'3" - 4'5"
Height
107 - 113 cm
114 - 120 cm
121 - 127 cm
129 - 134 cm
Weight Below
100lbs
100lbs
100lbs
130lbs