Best Selling UK Styled University Graduation Gown for Bachelors Degree Graduates
Made of high quality black matte fabric
Sleek, non-see-through finish
Reinforced stitching throughout the gown
Strong center pleated back
Classic shirred style
Why rent when you can purchase at a cheaper price.
If you are looking for the perfect graduation gown for your bachelor's degree graduation ceremony at an affordable price look no further than our Classic Bachelors Gown is the perfect robe for customers who require a garment for occasional non-ceremonial use. Featuring many of the essential elements of a traditional bachelor's gown (open front and comfort forming) this lighter weight gown has a plain shirred back design.
Includes one Fitted Mortarboard
• Made of high quality matte finished fabric
• Comfortable fitted inside as opposed to elasticized
• Sturdy top mortarboard (top square) measures 9.5 in x 9.5 inch (24 cm x 24 cm)
• Comes in 4 fitted sizes (S, M, L, XL)
• Comes with high quality graduation tassel
Also referred to as a trencher cap or graduation cap, this beautiful fitted mortarboard is one of the most important and iconic pieces in UK academic regalia. It can be worn by all graduation levels, however mostly used by university graduates for both Bachelors and Masters degree graduations. It is made of the highest quality materials and comes in four fitted sizes.  You can refer to our size chart and measurement guide to choose the best size for your head. You can't go wrong with our fitted mortarboard and it can be kept as a graduation keepsake for years to come.
You've just added this product to the cart:
Nottingham Trent University Bachelors Graduation Mortarboard & Gown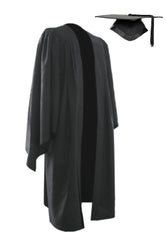 View cart
Continue Shopping
Size Chart Table
Size
39
42
45
45XL
48
48XL
51
54
54XL
57
57XL
60
63
63XL
66
Height
4'6" - 4'8"
4'9" - 4'11"
5'0" - 5'2"
5'0" - 5'2"
5'3" - 5'5"
5'3" - 5'5"
5'6" - 5'8"
5'9" - 5'11"
5'9" - 5'11"
6'0" - 6'2"
6'0" - 6'2"
6'3" - 6'5"
6'6" - 6'8"
6'6" - 6'8"
6'9" - 6'11"
Height(cm)
137 - 142 cm
145 - 150 cm
152 - 157 cm
152 - 157 cm
160 - 165 cm
160 - 165 cm
168 - 173 cm
175 - 180 cm
175 - 180 cm
183 - 188 cm
183 - 188 cm
191 - 196 cm
198 - 203 cm
198 - 203 cm
206 - 211 cm
Weight Below
180lbs
180lbs
180lbs
180lbs
180lbs
180lbs
270lbs
270lbs
270lbs
270lbs
270lbs
330lbs
330lbs
330lbs
330lbs