Maroon university graduation tassel of excellent quality
Comes with a current year charm (signet) that is free moving
Without the hang loop, tassel length measures 9"
6" hang loop can allow for easy fitting to the cap
Durable reinforcement metal clasp holder
When people think of graduation, many think of graduates clad head to foot in their graduation attire. This naturally includes the gown and the cap. However, without a tassel, even the best graduation cap and gown ensemble can appear incomplete. If your university requires a maroon tassel to complete the look, you would be wise to take a look at the maroon university graduation tassel.
This product comes highly recommended for a variety of reasons. One reason would be its superior quality materials and construction that go into the making of this beautiful tassel, which place it above the many similar products within this price range. Another reason is its quiet simplicity and undeniable elegance that people are naturally drawn to.
In addition to the obviously superior quality of the materials that it is made from and the aesthetics that so many are attracted to, it is also quite durable. It possesses a reinforcement metal clasp holder that has a very slim chance of failing its purpose.
You've just added this product to the cart:
Maroon University Tassel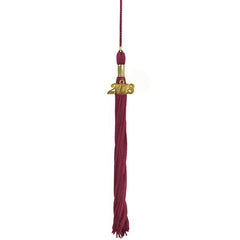 View cart
Continue Shopping
Size Chart Table
Size
39
42
45
45XL
48
48XL
51
54
54XL
57
57XL
60
63
63XL
66
Height
4'6" - 4'8"
4'9" - 4'11"
5'0" - 5'2"
5'0" - 5'2"
5'3" - 5'5"
5'3" - 5'5"
5'6" - 5'8"
5'9" - 5'11"
5'9" - 5'11"
6'0" - 6'2"
6'0" - 6'2"
6'3" - 6'5"
6'6" - 6'8"
6'6" - 6'8"
6'9" - 6'11"
Height(cm)
137 - 142 cm
145 - 150 cm
152 - 157 cm
152 - 157 cm
160 - 165 cm
160 - 165 cm
168 - 173 cm
175 - 180 cm
175 - 180 cm
183 - 188 cm
183 - 188 cm
191 - 196 cm
198 - 203 cm
198 - 203 cm
206 - 211 cm
Weight Below
180lbs
180lbs
180lbs
180lbs
180lbs
180lbs
270lbs
270lbs
270lbs
270lbs
270lbs
330lbs
330lbs
330lbs
330lbs