Maroon finished fabric
Matching black graduation cap is included (one size fits all)
High quality tassels and year charm with your colour of choice is included
Smooth dull finish that is not see through
Throughout the gown and cap is reinforced stitching
Durable centre pleats at the front of the gown
Comfy darted yoke
Stout zipper construction that has matching maroon zipper
Each Maroon Primary/Secondary Graduation Cap, Gown & Tassel is packaged individually in its own bag
One of the things that parents really look forward to in the academic careers of their children is their graduation from primary/secondary school. That would be a very memorable milestone to look back on years later. Excellent graduation attire is something that can only enhance the memory. This is where the Maroon Graduation Cap, Gown and Tassel set come in.
Maroon is a colour that has a very close resemblance to red-brown. That makes it closely associated with the colour of mother earth. Red-brown is typically obtained from clay and is, by association, thought to represent not only healing but also the power to repel malevolent spirits.
Those who worry about the finer details of the products have very little to be concerned about the Maroon Graduation Cap, Gown and Tassel set. The individual pieces complement each other perfectly and each one is designed to exceed every expectation imaginable.
You've just added this product to the cart:
Maroon Primary / Secondary Cap & Gown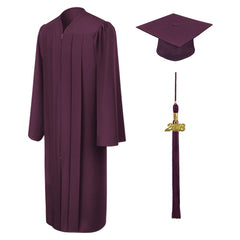 View cart
Continue Shopping
Size Chart Table
Size
39
42
45
45XL
48
48XL
51
54
54XL
57
57XL
60
63
63XL
66
Height
4'6" - 4'8"
4'9" - 4'11"
5'0" - 5'2"
5'0" - 5'2"
5'3" - 5'5"
5'3" - 5'5"
5'6" - 5'8"
5'9" - 5'11"
5'9" - 5'11"
6'0" - 6'2"
6'0" - 6'2"
6'3" - 6'5"
6'6" - 6'8"
6'6" - 6'8"
6'9" - 6'11"
Height(cm)
137 - 142 cm
145 - 150 cm
152 - 157 cm
152 - 157 cm
160 - 165 cm
160 - 165 cm
168 - 173 cm
175 - 180 cm
175 - 180 cm
183 - 188 cm
183 - 188 cm
191 - 196 cm
198 - 203 cm
198 - 203 cm
206 - 211 cm
Weight Below
180lbs
180lbs
180lbs
180lbs
180lbs
180lbs
270lbs
270lbs
270lbs
270lbs
270lbs
330lbs
330lbs
330lbs
330lbs