Best Selling UK Styled University Graduation Gown for Master's Degree Graduates

Made of high quality black matte fabric
Sleek, non-see-through finish
Reinforced stitching throughout the gown
Fully fluted back
Higher end version of the Classic (Fluted Style)
Stiff yoke for stronger heavier construction
Why rent when you can purchase at a cheaper price.
Our Deluxe Fluted UK Masters gown is made of the highest quality matte finished polyester fabric and features a stiffened yoke and fluted back. The sleeves are long and closed at the end (traditionally known as Tudor style) on our Masters Graduation Gown (MA), whilst there are slits above the elbows for the arms to pass through. You will not find a better deal in the United Kingdom!

Cheaper than renting and comparable quality, our well-priced Master of Arts Academic Gown is both high-quality and affordable.
Includes one size fits all Cap
Black university graduation cap (one size fits all)
Durable, non-see-through, black material with a smooth and comfortable finish
Includes high quality graduation tassel
Comfy band constructed to fit all head shapes and sizes
Strong and enduring reinforcement is present throughout
Under the top button, there is extra room which allows quicker and easier access to the tassel
Each UK Black Bachelors Graduation Cap is packaged within its own poly bag
You've just added this product to the cart:
Deluxe Masters Graduation Cap & Gown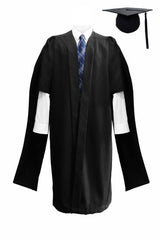 View cart
Continue Shopping
Size Chart Table
Size
39
42
45
45XL
48
48XL
51
54
54XL
57
57XL
60
63
63XL
66
Height
4'6" - 4'8"
4'9" - 4'11"
5'0" - 5'2"
5'0" - 5'2"
5'3" - 5'5"
5'3" - 5'5"
5'6" - 5'8"
5'9" - 5'11"
5'9" - 5'11"
6'0" - 6'2"
6'0" - 6'2"
6'3" - 6'5"
6'6" - 6'8"
6'6" - 6'8"
6'9" - 6'11"
Height(cm)
137 - 142 cm
145 - 150 cm
152 - 157 cm
152 - 157 cm
160 - 165 cm
160 - 165 cm
168 - 173 cm
175 - 180 cm
175 - 180 cm
183 - 188 cm
183 - 188 cm
191 - 196 cm
198 - 203 cm
198 - 203 cm
206 - 211 cm
Weight Below
180lbs
180lbs
180lbs
180lbs
180lbs
180lbs
270lbs
270lbs
270lbs
270lbs
270lbs
330lbs
330lbs
330lbs
330lbs