High quality, durable material
Matching mortarboard is one size fits all.
High quality graduation tassel with year charm is included.
Smooth finish, opaque fabric
Strengthened piping and stitching all over the gown and cap.
Durable centre pleats in the front of the gown.
Comfy darted yoke.
Durable zipper construction with matching black zipper.
Each product is packaged individually in its own bag.
If there's ever a time to take one's clothing seriously, it's at one's degree ceremony. Because of this, the classic graduation ensemble exists to streamline at least part of the process. Our bachelor graduation gown, cap, and tassel package follows in the proud tradition of graduation academical dress with its great beauty and quiet splendour. With its classic design, artful construction, and stunning value, this package is among our top products and that is something that doesn't look to change anytime soon.
This set features several attractive components that both stand on their own and do extremely well in complementing the other parts. Each part is of a high quality while still being affordable, with attributes such as strength, durability and of course, aesthetic appeal.
It's not hard to see why with the high quality tassel and the sturdy shoulder yoke that provides that highly confident look many would strive to emulate.
You've just added this product to the cart:
American Bachelors Graduation Cap & Gown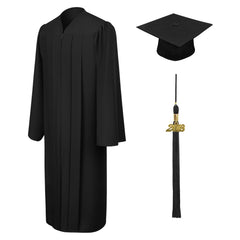 View cart
Continue Shopping
Size Chart Table
Size
39
42
45
45XL
48
48XL
51
54
54XL
57
57XL
60
63
63XL
66
Height
4'6" - 4'8"
4'9" - 4'11"
5'0" - 5'2"
5'0" - 5'2"
5'3" - 5'5"
5'3" - 5'5"
5'6" - 5'8"
5'9" - 5'11"
5'9" - 5'11"
6'0" - 6'2"
6'0" - 6'2"
6'3" - 6'5"
6'6" - 6'8"
6'6" - 6'8"
6'9" - 6'11"
Height(cm)
137 - 142 cm
145 - 150 cm
152 - 157 cm
152 - 157 cm
160 - 165 cm
160 - 165 cm
168 - 173 cm
175 - 180 cm
175 - 180 cm
183 - 188 cm
183 - 188 cm
191 - 196 cm
198 - 203 cm
198 - 203 cm
206 - 211 cm
Weight Below
180lbs
180lbs
180lbs
180lbs
180lbs
180lbs
270lbs
270lbs
270lbs
270lbs
270lbs
330lbs
330lbs
330lbs
330lbs